Happy Fall, Everyone!

With this newsletter our 2015 Pinot Noir vintage is now officially released!

And what a delicious vintage it is! We speculated over the past year if this new vintage would be worthy after our 2014 blew everyone's socks off when it won the Pigs and Pinot award this past spring! Well, it certainly seems to be the case! Although it is so young--newly bottled just this last summer--it delivers a delicious mouth feel, flavors bursting of freshly picked cherries and raspberries, and a rich depthness uncommon for such a young wine. Its follow through is already smooth and pleasant. With these qualities it will only improve with age!

Harvest 2016

Once again, harvest is over for the year. Fall is here and it is quiet in the vineyard. All the bustle and work spent throughout the season, all the time spent babying this crop along succeeded in bringing to fruition another spectacular crop. We have the gods to thank again.

The weather, from early spring though harvest time couldn't have cooperated more. Looking back it felt like this vintage just flew through the year with no unusual weather demands. We experienced no menacing frosts throughout the entire spring that are so common in our area that could have disturbed the development and growth of first leaf; no early rains that could have damaged bloom time; and no late summer rains that could have created havoc during harvest. With optimum growing conditions all season long this harvest yielded a magnificent crop of tight, fat, clusters overflowing with delicious juice, seemingly already primed for the bottle.

As in previous harvests we waited until the crop reached the optimum sugar/acid balance level. This year we harvested when the grapes were at 26 brix. Our crew was ready. With Sebastian at the helm, the crew brought in a gorgeous crop. It maxed out at a little over 13 tons over four separate days of select harvesting.

It is resting quietly in the barrel now as we once again wait for its transformation. Like a butterfly in its chrysalis, it will magically change from mere grape juice into another vintage of delicious Pinot Noir. And again, it looks to be a wonderful vintage, maybe the best we have ever experienced for we have learned through the years that for some reason each new vintage tastes even better than the last one! All the more reason for our impatience as we eagerly wait to enjoy it.

We would have loved to have tasted the 2016 vintage at our Harvest Hoedown Barbeque wine club pick up party held this past September 11 at Vine Hill House. It was a fun celebration, thanks to our fab wine club members and friends who attended. All who entered through the swingin' bar doors, under the signs "Last Chance Saloon" and "Check your guns and your counterfeit wine at the door" found upon arriving in the patio area hay bales set around western themed motifs–from a saddle and bridle and a noose ready for stringin' up a rustler to wanted posters for almost everyone including one for "Black Hand Dan–wanted for the crime of after dark grape rustling".

The party began with Kentucky Mules, garlic fries and a vineyard tour led by Dan. Upon returning everyone lined up for a delicious chuck-wagon style barbeque meal by Sue Borowitz and her amazing staff at Trends Catering, accompanied by our remaining bottles of the 2014 O'Connell Vineyards Pinot Noir, and tastes of our as yet unreleased 2015 O'Connell Vineyards Estate Grown Pinot Noir and 2015 O'Connell Vineyards Chardonnay.

As the wonderful grammy nominated Rhythm Rangers, a local western swing band, played on the back porch, plein air artist, Nataliya Tyaglo set up her easel and proceeded to capture the scene on the back lawn.

Our friend photographer Paul Miller shot some great video which you can watch here. Thanks Paul!

After dinner we continued to the dance floor where we danced to a whirlwind of western swing, while enjoying Mom's apple and blackberry pies with ice cream.

Gifts were won in a drawing–Violet Nelson won the wine picnic carrier, and Diane Claytor won a two pack of the unreleased 2015 O'Connell Vineyards Estate Grown Pinot Noir and 2015 O'Connell Vineyards Chardonnay. Congrats to you both!

Overall it was a fun, and relaxing September afternoon!

Until next time, we hope you all have a safe and happy holiday season and a happy new year!


Cheers To You All!

Dan and Jan and
Everyone at O'Connell Vineyards and
Vine Hill House



"True love is like a fine wine"


Join our Wine Club!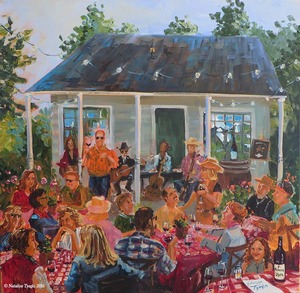 Enjoy amazing 20% discounts all year long!

Contact Dan or Jan at O'Connell Vineyards regarding your membership, to order wine
and for wine club events at the number below, or visit our website at www.oconnellvineyards.com to sign up.

CLICK HERE
to email your order

If you prefer to place your order by phone,
please contact us directly at 888-889-0929.

You may also pick-up your order at the vineyard.


---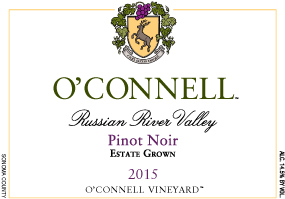 2015 Estate
Pinot Noir
Our delicious Burgandy style Pinot -
perfect for any occasion!



$45.00 per bottle
CLICK HERE
to place your order