Greetings, Friends!
Happy New Year 2017! Has it already been five months since we harvested our 2016 crop? It seems like it was only yesterday.

We awoke this new year to a white winter scene as a shroud of fog enveloped the vines and everything was covered in a layer of icy frost. The temperatures hovered around 30 degrees and below for many mornings, only rising to the low 40's in the heart of the afternoons. This was followed by torrential rains which brought ferocious winds, thunder, and lightning.

Last year at this time we were commenting that the new year had finally brought us 5" of rain. We were so pleased after the long drought we had lived through. Well, since January 1st we have experienced over 13" of rainfall with more to come! So far for the season (July through June), we have received over 36". It appears we are finally getting back to receiving the traditional levels of rainfall for our area of 35-40" per year.
This cold weather and heavy rain should give the vines an added boost. Last year's rainfall strengthened the vines, they grew longer tendrils and larger clusters. The 2016 vintage was superb in quality and the cluster weight was almost back to normal after the long drought. We expect the 2017 crop to improve even further.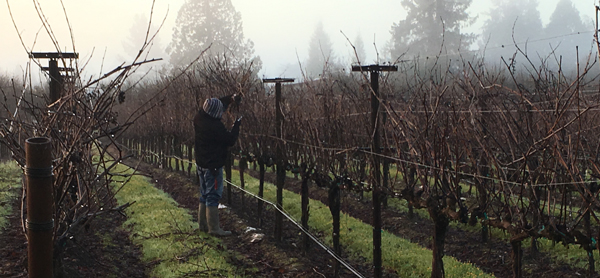 With January comes pruning of the vines, but only after cleanup from the storms. Luckily, we only lost part of a redwood and some limbs on a tree at the end of our driveway. We hope this is all we'll lose this winter. We love our trees. In fact, we named most of them on Vine Hill years ago. We are grateful that Spartacus, Fred and The Brothers are still standing. Sebastian started pruning on January 9th and is making great progress. He is once again leaving two little kickers on each vine as added insurance for the crop.
We are looking forward to celebrating 2017 with some great events and lots of delicious Pinot! Here are some upcoming dates you should definitely calendar:
On Sunday, February 12th join us at Vine Hill House for our Valentine's Day wine club pick-up party. Champagne, munchies, chocolates and of course, our 2015 Pinot! As always, this event will be free to our wine club members and one guest ($45.00/per person otherwise) Don't let this stop you – come by and join our wine club! You can join for as little as two bottles four times per year, and then you can enter for free! We will be sending out invitations soon.

In March we will be returning to Hotel Healdsburg for Chef Charlie Palmer's 12th annual Celebration of Pigs & Pinot. A cast of Master Sommeliers and international celebrity chefs will showcase some of the world's greatest Pinots Noirs with perfect pork pairings. All net proceeds go to charity. As many of you know, we won the Pinot Cup last year at this event. This year our 2015 Pinot Noir will be poured at the Friday night Taste event and Dan will be a special guest speaker at the Gala Dinner on Saturday night. Come join us Friday or Saturday, March 17-18. We would love to see you there! For tickets and information please visit pigsandpinot.com

On April 23, we will host our annual Spring Celebration wine club pick-up party. Be sure to attend as Dan's got something up his sleeve for this one. More details coming in our next newsletter.
On a personal note we had a great trip to Europe over the holidays to pick up our daughter who was finishing up her semester at the University of Strasbourg. We drove around Germany, Alsace and Burgundy, visited Christmas markets, and had a wonderful time in Paris. A highlight was attending Christmas Eve services at Notre Dame which was truly beautiful. And we definitely loved the Burgundy Pinots! The one thing that stands out in our memory are all the roundabouts throughout Germany and France. Unless an intersection is within a small town it is inevitably a roundabout. We grew to love them. There is no stopping, just slowing down a bit to be sure to peel off onto the correct road. We need more of these over here in the States. In fact, we'd love to have them coming north out of Sebastopol on Gravenstein Highway. They would work perfectly at Occidental Road, Frei Road and Vine Hill Road intersections. The traffic is so bad here in the afternoons we know they would bring welcome relief. Now to just convince Cal Trans…



Cheers to you all!

Dan & Jan
and everyone at O'Connell Vineyards and Vine Hill House

"True love is like a fine wine"


Join our Wine Club!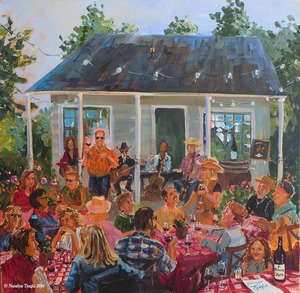 Enjoy amazing 20% discounts all year long!

Contact Dan or Jan at O'Connell Vineyards regarding your membership, to order wine
and for wine club events at the number below, or visit our website at oconnellvineyards.com to sign up.

CLICK HERE
to email your order

If you prefer to place your order by phone,
please contact us directly at 888-889-0929.

You may also pick-up your order at the vineyard.


---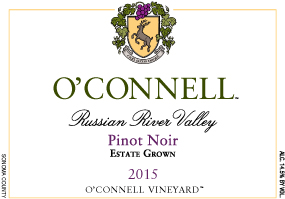 2015 Estate
Pinot Noir
Our delicious Burgandy style Pinot -
perfect for any occasion!



$45.00 per bottle
CLICK HERE
to place your order